"I would do it again in a heartbeat."
It's what people say after a great vacation or an awesome dinner. However, you don't typically hear it after someone's trekked across the country to see his child be poked and prodded by doctors for four days straight. But it's what my husband said towards the end of his trip with Marcus to NIH (National Institute of Health in Maryland) and it's what we've heard so many parents say of the same experience.
(all photos taken by Mike on his phone)
Last week, Marcus participated in a medical study for Joubert Syndrome and other similar syndromes associated with kidney and liver diseases. It had been going on for a few years and we were fortunate enough to take a spot during the very last week of the study. We had many fears while preparing him for the trip. Will Marcus be okay on the plane or will his sensory issues keep him miserable the whole ride there? Will he be anxious and fearful at each appointment? (He had several a day.) Will MIke be okay going to all the appointments on his own? Will we hear discouraging news after all the testing?
We asked some friends to pray for us and the Lord bountifully answered. He did so well during his travels and even said that he wanted to ride a plane again, despite the loud noises.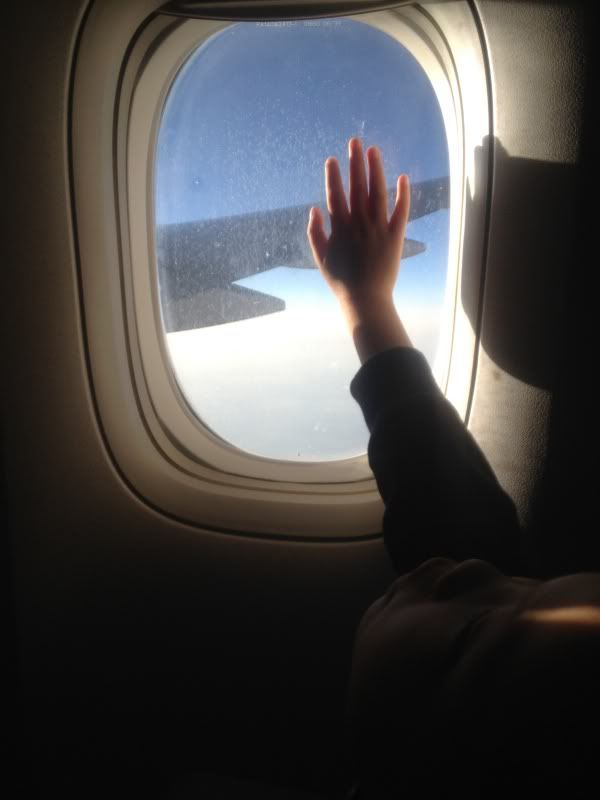 He was also brave beyond his years at each appointment and our boy, who freaks out at band-aids, became Super Marcus when he didn't flinch while probes were wrapped around his head during the EEG.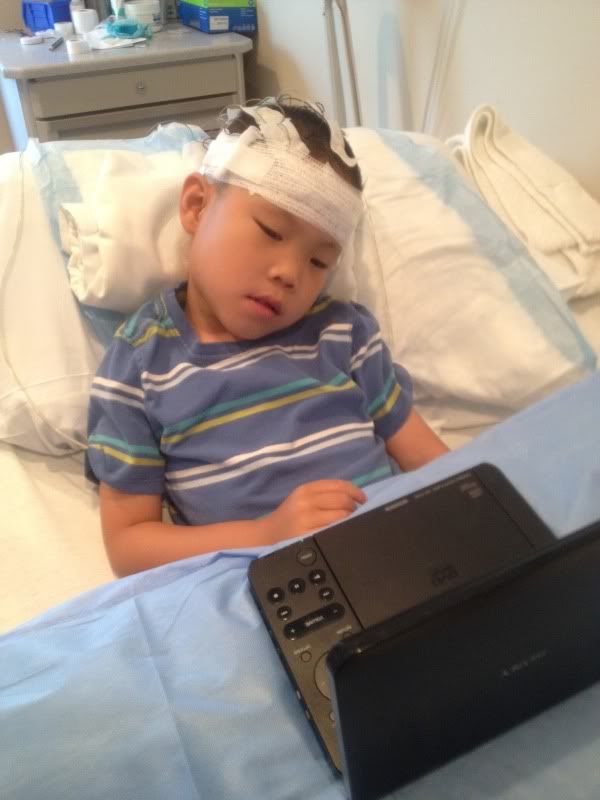 There were some difficult times though. Three people had to pin him down to collect 12 vials of blood, and dilating his eyes was also very scary for him and very stretching for Mike.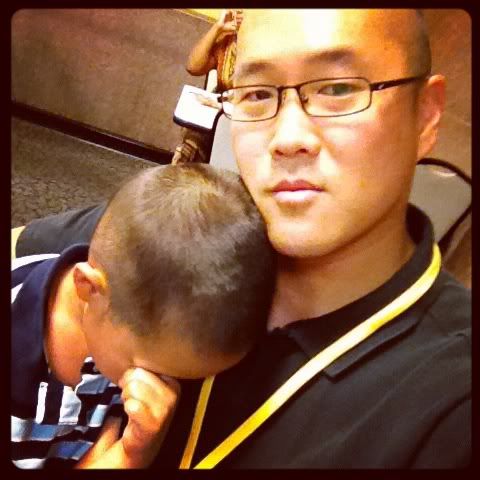 But by God's providence, our church had the kids memorizing Proverbs 18:10 a few weeks prior to the trip. "The name of the Lord is a strong tower. The righteous man runs into it and his safe." We had been talking quite a bit about the fact that God is a refuge for us; a safe place. And as he recited it with Daddy during the difficult times, I think it was an encouragement to them both, and to us at home, who were praying for them and dying to be with them.
At the end of the week, the head doctor of the study showed Mike and Marcus the results of each test and we were so thankful to hear that besides his retinal degeneration (which we had already known about), his health was stellar. She even said that although there still is a chance he could develop kidney or liver issues down the road, based on his current tests results, it is less likely that would be in his future. We were beyond thankful to hear that news, knowing how much they had to go through the entire week.
After Mike came home, I asked him why, even through the tiring travels and the arduous appointments, he would relive the experience again. Of course, he mentioned that the good results was a major factor, but he also added a few other reasons:
1. Meeting the people.
Not only the amazing doctors and staff who genuinely cared about the children and who actually knew what Joubert Syndrome was (versus the local doctors who often Google JS to find out information about it), but also meeting the other two kids and their families who were there for the study at the same time.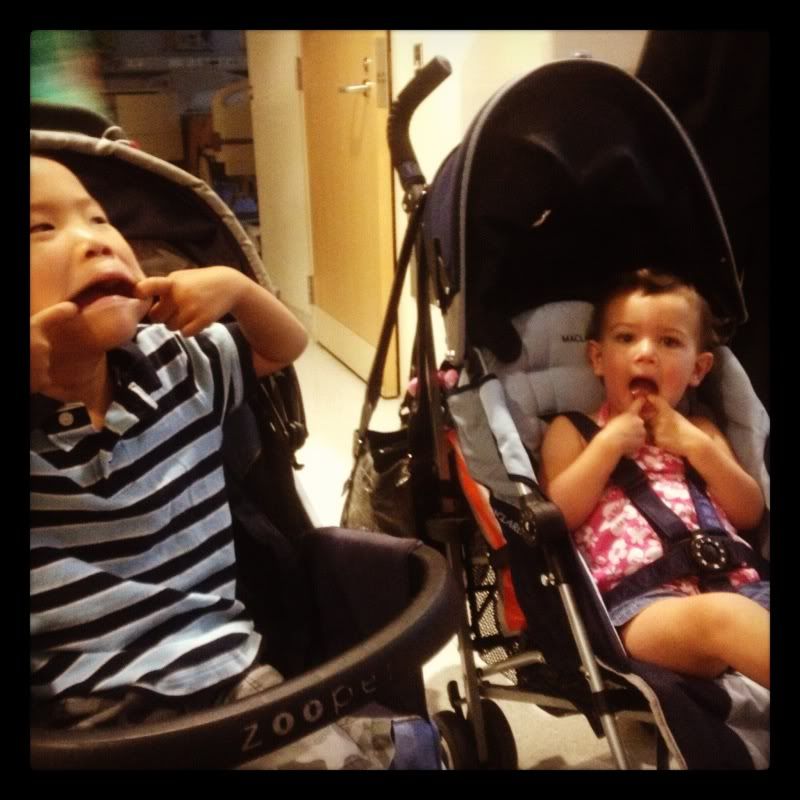 Mike repeatedly said that the trip was so worth meeting Mackenzie, Andrew, and their amazing parents. I'm sure they now all share a very special bond and we hope to, one day, meet again. (Please read about
Mackenzie and her family's experience on her blog!
Hope you don't mind me sharing it, Whitney!)
2. Seeing the world of rare disease beyond Joubert Syndrome.
At the hospital and at the Children's Inn, where they stayed, Mike met and saw many other children with rare conditions. Some with physical deformities never seen before and some who were obviously very ill. In his words (which I'm paraphrasing), "I saw all those children and I loved them all. I would want to adopt them if they didn't have parents of their own. The world would see them and see something wrong, but they are all perfect. And yet, in all these rare diseases, I saw a visual picture of the effects of the fall on this world."
We believe that Marcus is fearfully and wonderfully made. However, there is also the reality that God will one day renew our bodies to be whole again. And to see so many others struggle with so many other challenges unknown to us, opened our eyes to the fact that much suffering exists. Not all patients go home with good news like us. So even though we are daily faced with Joubert Syndrome in our home, there exists a world at large that is longing to be healed of sickness, relieved from pain, delivered from sadness.
But interestingly enough, sadness isn't really what Mike saw there. He said that so many of the children and their parents were smiling and happy in spite of the reasons why they were there. And so it dawned on us that being a tiny part of this world of disease and disability is a unique privilege we never thought to ask for. At least, that's our perspective for now. It's heart-breaking and exponentially more for those who carry severe pain and even loss of their loved ones. But for us, for now, we consider it an honor to share a small part of this unique experience.with others.
To learn to recognize the gift that is our health, to entrust our Heavenly Father with our most beloved children, to be stretched and reminded that God's grace extends past our weaknesses, and to long for Heaven...that is the privilege for us. We are so blessed to have Marcus, who has introduced us to a whole world we would never have known otherwise.