Audrey isn't the hugest fan of reading, so whenever we find high-interest reading material for her, we load up our library bag, hoping to make reading more motivational and not just a chore. She's not the offspring of avid readers, so it's no surprise. Although I love to read now, my high-interest reading material when I was young was Bop magazine...not the most academically challenging nor spiritually fortifying. So, when we found out some friends of ours were publishing the Power Bible, we were excited to get it in Audrey's hands.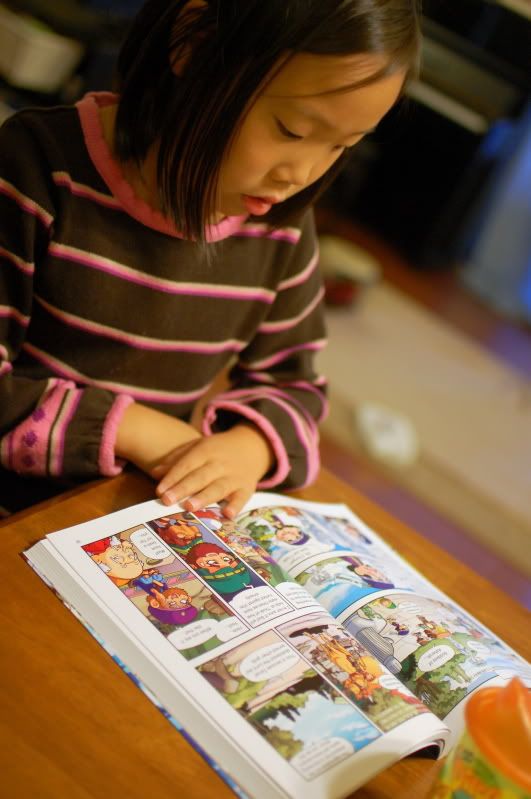 It's basically the Bible from start to finish in comic form. Biblically accurate and completely engaging, it's been awesome to see Audrey learn so much and be so excited to read. She blasted through the first two books, so CA Grandma bought the rest of the set for her and let's just say that tonight, she was bummed that she couldn't stay up to read more. She's been saying things like, "I didn't know that..." and we'll respond with, "Really? Did that really happen?" And lo and behold, it did. I'm so excited for her to get a big picture of the Bible so that she knows the framework of the glorious story of Jesus. It's in no way a substitute for the Bible itself, but a wonderful and creative tool to supplement scripture.
The company also just came out with a cute calendar. Audrey's totally into months and dates, so it's perfect.
Alrighty, now's the time where I ask all 10 of my readers to enter a giveaway. There are 2 prizes, so there's a good chance you'll win! The 1st commenter chosen at random will win one calendar and Book 1 of the series. The 2nd commenter chosen at random will win one calendar and Book 2 of the series.
To enter:
1. Like their
facebook page
and leave a comment on my blog telling me what YOU loved reading as a kid. I KNOW I wasn't the only one who liked Bop magazine!
2. For an additional entry, visit their
website
and leave a comment telling me you did so.
You have until Sunday night, 8pm PST and I'll announce the winners Monday morning.
Yay! I'm excited for you already.