Tedd Tripp Conference
Like many other parents and parents-to-be, Mike and I really enjoyed being able to attend Tedd Tripp's parenting conference.  We are SO blessed to have been able to learn all these deep, yet practical truths before Baby comes.  One thing that really struck my heart during the first night was when he said that since we are made in image of God, we are all worshipers.  But we will either worship God or we will worship idols.  He went on to say that unless we as parents are completely dazzled by the wonder and beauty and holiness of God, our children will not be impacted to also be worshipers of the Lord.  How we need to constantly abide, grow in the knowledge of God, and walk in obedience ourselves!
We need His grace to fulfill this huge responsibility of being a mom and dad!  We really appreciate your prayers because we certainly cannot do this on our own.  But we're so thankful for the Word to guide us and for so many other parents who are modeling right things for us.  Just pray that we would obey.
Baby's gettin' bigger!
It's fun to play with Baby.  He/she is moving a lot and it's fun to ask Baby to move for daddy after a long day.  It's amazing that in a matter of months, we will have a new addition to our family.  I'll definitely miss this time that I have alone with Mike, without interruptions, so we're trying to cherish every moment of it.  But we're also very very excited to finally meet him/her!
Changes
As we all know, Joan & Dale are leaving for the Czech Republic this coming Tuesday.  Thinking about them leaving makes me praise God for all that He's done in our lives to grow us and to cause us to be more like Christ.
Here's an old picture of Joan and Jeanne and me.  I'm so proud of these sisters for following the Lord in obedience, and following their husbands joyfully as they lead their families.  This picture was taken before pregnancies, babies and before thoughts of missions...  I'm so thankful for how He's directed our lives these past few years and for all He'll do in the coming future.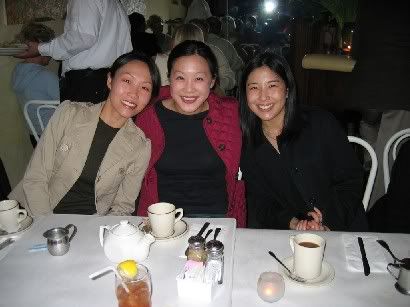 On top of that, Jane is officially finishing a 4-year chapter in her life and Jenny is preparing to be Mrs. Kang!  So much to praise God for!