Audrey's one month old!
This month has really flown by and we are so thankful for having her in our family.  It's been a huge learning curve for us as parents, but every week seems to get better and mommy is getting a little more sleep at night now.  An added blessing is being able to get back to church, which I missed SO much.
It's amazing how a baby's bodily functions can cause adults to run to the Lord.  Many times, I've prayed for help and for God to calm my anxious heart and now I see that diaper rashes and sleepless nights and eye discharge and fussy spells are blessings in disguise because they remind me to run to the Lord and depend on Him for all things.  And He is truly gracious for inclining His ear to our prayers.
I've uploaded some pictures especially for Audrey's grandparents and a few aunties and uncles who are out of the country so that they can see her grow!
Mike and I celebrated our 3rd anniversary on July 27th at Tommy's Sushi.  It was the first time that we were both away from Audrey, but she was in Maryland Grandma's loving hands, so we weren't worried at all.  It was really nice to spend some alone time together and we're looking forward to many more dates.  Anyone up for babysitting?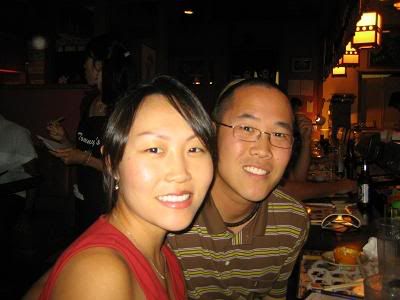 When Mike gets home from work, Audrey has some play time with Daddy.  Well, she doesn't play much yet, so Daddy and I have fun playing with her while we're trying to wake her up for her next meal.  One night, Mike was being really creative...
Here's Audrey's impersonation of George Washington...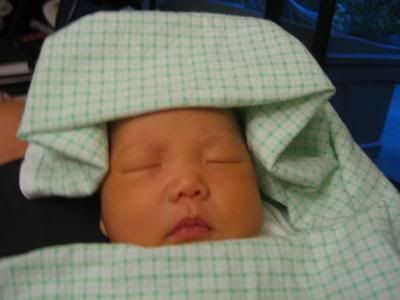 And Aunt Jemima
And Napoleon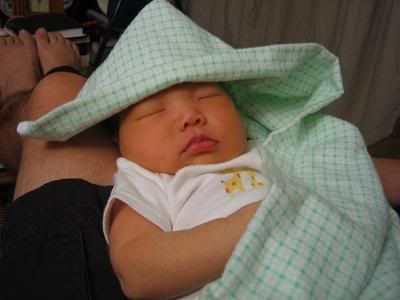 She is really precious when she's asleep.
When her tummy's full, she doesn't mind getting her diaper changed.  She's really really relaxed...
She loves getting kisses from Mommy and Daddy!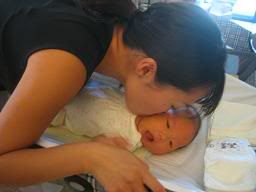 She also loves listening to Pastor James' sermons on Auntie Jane's ipod.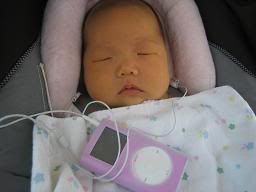 "Mommy, are you taking pictures of me while I'm trying to sleep?"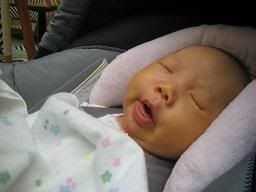 "Please, please let me sleep...please?"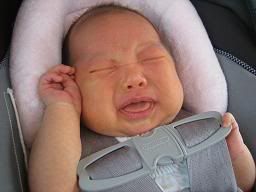 Audrey LOVES  taking baths and her grandma gives her the best baths a baby could ask for.  Here, she's thinking..."Oooh...I can't wait to get in the water!"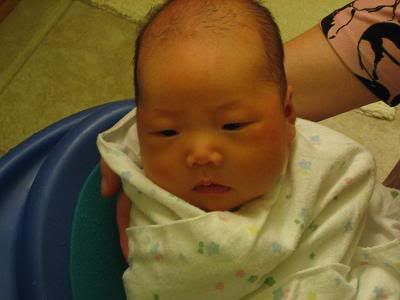 "Aaah, this feels gooooood."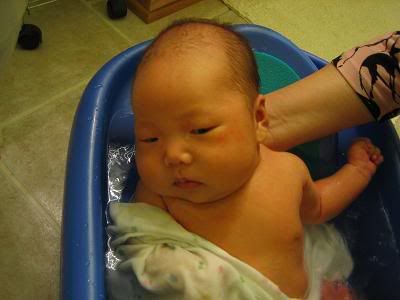 "I could stay in here forever!"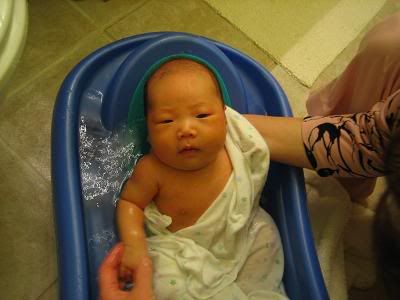 "All done...now it's time for me to go night night..."