Ever miss someone so much that you want to avoid seeing her so you don't have to say "Good-bye" to her again?
While my mom was here helping out my sister with Baby Matthew, I wasn't able to see her as much as I wanted because of Derek's Roseola. I was going to sneak out the other night to spend time with my mom, but I decided not to. Knowing I'd be crying the whole 45-minute drive up there, dreading the "Good-bye", only to see her for an hour or two with a heavy heart, and then to have to actually say it and then cry the whole drive home, was not appealing to me. So instead of seeing her in person, I decided to just bid my farewell over the phone, which I cried through any way. Go figure.
But today, a few hours before her flight, we had a FaceTime session and surprisingly, there were no tears involved.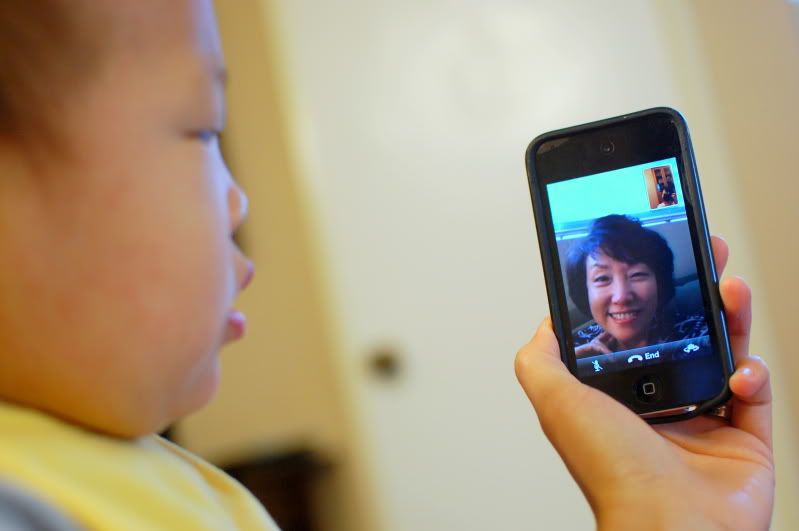 Is it weird that sometimes I want to go back into her womb? When Marcus was born is when I became an adult. Before that, I feel like I was playing house. And now I see that the adult world is real, tough, dirty, and sometimes brutal. I'm thankful for my mom who tucked me in bed and made me feel like I was in a safe and warm place, even though she and dad were fighting to survive in their adult world.
And now I'm a mom and my own kids may one day miss the days we are experiencing right now. Note to self: hug them tight, make them laugh, show them how merciful and loving the Lord has been to us so that they know the One who will be with them when they enter the adult world of their own.
Love you, Mom! Miss you!